New!!! Our Diet and Nutritional Calculator.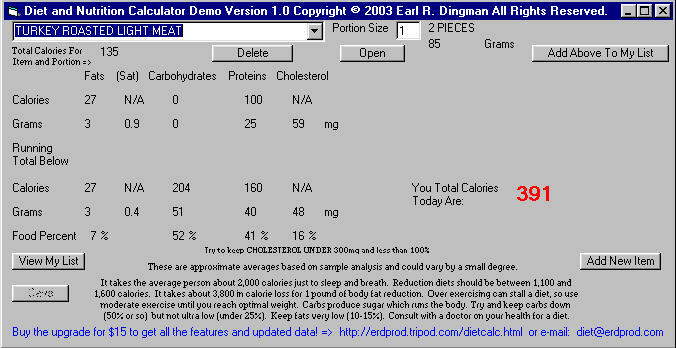 This will calculate a variety of nutritional values for a list of foods based on user input of serving size. This works on PC Compatibles running Windows 98 or better. NOTE: Nutritional Information is very approximate and there are some conflicts between total calories and individual catagories, some item entries are also crude in the demo. This will be rectified in upgrades of the full, paid version. Many controls are disabled in this demo version. The demo version is FREE TO USE AND DISTRIBUTE.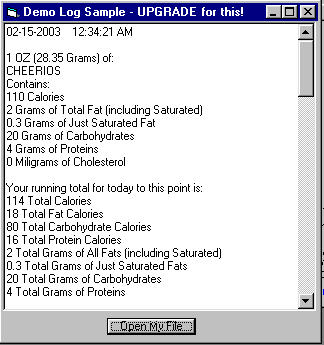 Paid upgrade users can add items or edit the data base, view a running list of their food intake and nutritional totals on a day by day basis. The running total saves as current date so you can start fresh every day.
This is in a ZIP file and is 2 MB in size and takes about 15 minutes to download at 28KB or 9 minutes at 56KB. It contains all the installation files and will list this item in your START menu.
You can upgrade your test version for $15.00 U.S. as a virtual upgrade. Paid users will be able to get updated data base files when they become available. You can also buy the full version on CD-R disk for $20.00 U.S. shipped anywhere in North America or $25.00 U.S. shipped insured air outside of North America.
Buy the upgrade via Pay Pal (Master Card - Visa and Pay Pal Bank Transfers):
If you find it useful UPGRADE TO THE FULL VIRTUAL VERSION FOR JUST $15
---
Get the upgrade files (only) virtually and on CD-R for $20
---
Get the entire program with all support files on CD-R (you must have an ALL MEDIA CD/DVD player) for $25 (US) ouside of North America
You can also send check or money order in U.S. funds on a U.S. Bank to:
Earl R. Dingman
PO Box 39A16
Los Angeles, CA 90039



This page has been visited
times.