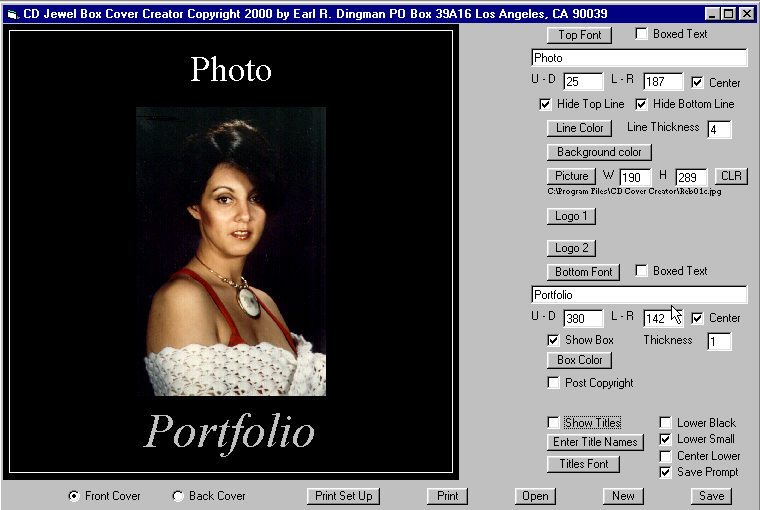 <!p ALIGN="JUSTIFY"> Make dazzling covers for your music or software CD and CD-R jewel cases with NO graphic experience! Just add text. Select from any font on your system in the colors available. Press a button, add picture, box, line, logo or copyright notice. Print them out on virtually any ink jet or laser printer! You can create a professional looking cover in minutes!


Index your CD-R and RW disks at the click of a button, print it up, cut on the dotted lines and insert into the Jewel Case Cover in a matter of moments! Chose from 20 different one and two page format options.

Ideal for musicians, composers, singers, photographers, shareware programmers and anyone who wants to make their own professional looking custom jewel case cover or index their data disks!




Download the Free Demo Copy!





Try it for as long as you like.
Buy the upgrade via Pay Pal (Master Card - Visa and Pay Pal Bank Transfers):
If you find it useful UPGRADE TO THE FULL VIRTUAL VERSION FOR JUST $15
---
Get the upgrade files (only) virtually and on floppy disk for $18
---
Get the entire program with all support files on CD-R (you must have an ALL MEDIA CD/DVD player) for $20
You can also send check or money order in U.S. funds on a U.S. Bank to:
Earl R. Dingman
2211 Vermont View
Watervliet NY 12189


For more information or problems e-mail us at: erdprods@yahoo.com
Demo version has some limitations and disabled functions but will let your try all the features, create and print your own custom demo cover or give you one index printing option.









This page has been visited

times.